Hydro Flasks are no small thing. Walk into any high school or college campus and you'll be surrounded by people carrying them. The colorful, portable drink holders can't be avoided. I purchased my Hydro a year and a half ago. After my family used mine, they decided to get their own. The question is, are Hydro Flasks worth the hype? Are they worth spending money on? Here is my Hydro Flask Review.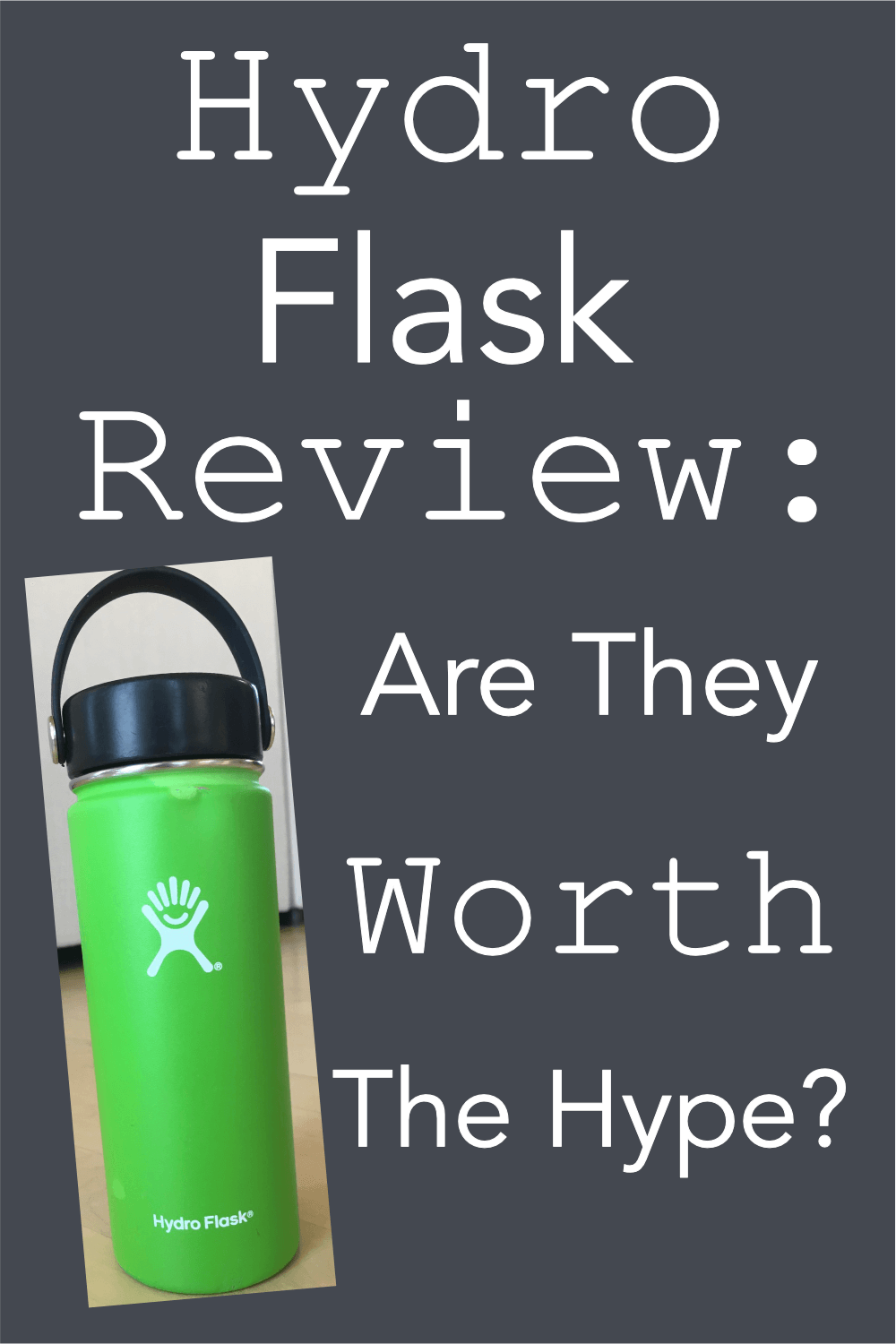 This post contains affiliate links. When you purchase through an affiliate link, we make a small commission at no additional cost to you. Disclosure
Benefits of Hydroflasks
Come in All Shapes and Sizes
There is a Hydro Flask to fit everyone's needs. They have anything from the regular good ol' fashioned Hydro Flask to a Hydro Flask made specifically for beer. They also have plenty of sizes to choose from based on your needs; from a smaller size for a nice, hot tea in the morning, to a ridiculously large size to carry water for a hike. They even have flasks made specifically for food.
Yes, They Really Keep Things Cold
This is a tried and true test my friends. When my dad first tried taking a Hydro with him to work, he filled it up to the brim with ice. He expected the ice to melt throughout the work day, to provide cool water. However, even after ten hours, there was little ice melted. The Hydro Flask will keep things so cool that even ice will not melt for hours. This is impressive, since with most water holders the ice will melt the second you leave the house.
Store Hot Items in Them Too
Hydros are also able to keep hot items hot throughout the day. I will admit, I have never personally put my Hydro through the hot liquid test but many of my friends have. They have put hot teas and coffee in their Hydro Flask and it easily keeps their drinks hot long enough for them to enjoy.
So Many Colors
As Hydro Flasks become more popular, more and more colors are being brought to the market. Many of these colors are bright, vibrant and can be seen from a mile away. There are also multicolored options available. More Hydro Flasks are being introduced with beautiful ombre color schemes. My bright green Hydro Flask has not lost any of its color. It is still bright and beautiful.
Customization
On the official Hydro Flask website, there is an option to customize your own Hydro. If you are someone who knows exactly what you want and have specific water bottle preferences, this is perfect for you. On their website they boast that you can customize with 11 different sizes, 2 lids, 4 parts and over 14 colors. Plenty of options. The only downside of customizing is not being able to create a multicolored Hydro Flask.
Downsides of Hydroflasks
Expensive
While Hydro Flasks get the job done, it comes at a price (a steep one at that). There are plenty of other water bottles out there with a cheaper price tag. These bad boys are durable but if you're only in the market for a simple, cheap water bottle, Hydro Flasks may not be for you.
Can Dent Easily
I'll be real, as humans we can be a lil' clumsy. I will fess up that I have dropped my Hydro Flask on more than one occasion. While my Hydro has not incurred any life endangering damage, she still has a few bumps and scratches. If you need a water bottle that can be put through the ringer, either by children or just your clumsy self, you may not want to buy a Hydro. Hydro Flasks certainly aren't delicate, they can survive a good fall or two but they will come out damaged or scratched.
Not Dishwasher Safe
Hydro Flasks have to be hand washed to ensure that they will function properly. This can be okay at first but, after a while, it may become a burden to have to constantly hand wash your Hydro. If you lead a busy life and don't have time to hand wash constantly, you may want to find a bottle that is dishwasher safe.
After my Hydro Flask Review, Do I Recommend?
In a nutshell, yes, I absolutely recommend Hydro Flasks. Hydros get the job done and, with a variety of shapes, sizes and colors, there is a Hydro for everyone. Unless you just can't get over one of the downsides I listed above, purchasing a Hydro Flask is a great idea. It is hard to find a bottle that is better than this.
Want to Buy a Hydro? Here's a Link!
Want More Reviews? I Got Plenty!
Bullet Journals: Are They Worth It?
Buying Textbooks from Chegg: Is Chegg Worth it?